OUR SERVICES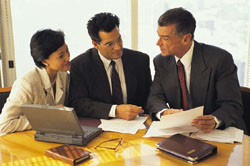 Our services are comprehensive. You probabaly don't need everything we offer...but those services need to be there. It's all about using the right tool at the right time!
The first step in the process is diagnosis...where are you financially? The next step is goal setting...where do you want to be and when? Once both of those are clearly identified, we'll then be able to lay out a "financial road map" to help you achieve your financial goals.
While developing a customized financial program, we will walk you through a step-by-step process that will help you feel confident in your decisions.
As we mentioned previously, this is a "process', not an "event". Once the plan is put in motion, then we can make small, incremental adjustments to keep you on your financial course over time...and help you achieve your financial goals...much like "financial GPS"!
Here are a few elements we find are important to most of our clients:
Tax management

Investment management

Retirement strategies

Estate conservation

Social Security maximization

Insurance and annuity products
There are risks involved with investing which may include market fluctuation and possible loss of principal value. Particular investments may not be suitable for certain situations. Carefully consider the risks and possible consequences involved prior to making an investment decision.